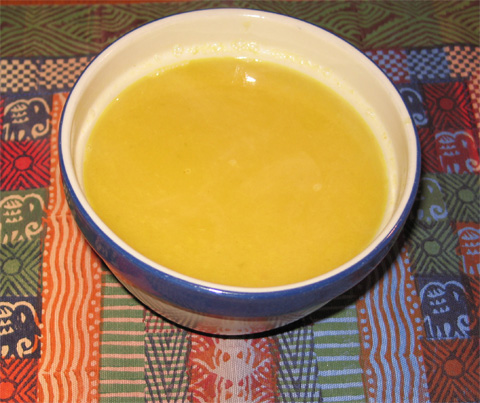 Butternut squash (sometimes known as butternut pumpkin or winter squash), is a member of the gourd family, the same family as the pumpkin, and does have a very similar taste to that fruit.
It is in season late autumn and early winter; with its unusual shape, yellow skin, orange and almost nutty flavoured flesh this fruit is delicious roasted, in casseroles, made into chips, mashed or – my favourite way of using butternut squash – to make a delicious, creamy and hearty soup.
Butternut squash (often shortened by lovers everywhere to BNS) is an excellent food nutritionally as well as taste wise, it is very low in saturated fat, cholesterol and salt and is also a good source of Vitamin E, A & C amongst many other vitamins and minerals there is also only 40 calories in 100g and zero Points if following the Weight Watcher plan.
This recipe is actually my favourite one using the butternut squash as it is tasty and just that little bit different from others I have made, it is really warming and comfortable and my family and I just love it.
THATI STYLE BUTTERNUT SQUASH
Serves 4
INGREDIENTS
1 medium / large butternut squash
1 tablespoon vegetable oil
100g desiccated coconut
1 litre vegetable stock
100g sweetcorn
1 onion, chopped finely
1 carrot, diced into small dice
100g extra light soft cream cheese
2 teaspoons Thai red curry paste
Salt and freshly ground black pepper to taste
2 bay leaves
METHOD
1. Peel the squash (I find the easiest way is with a potato peeler)
2. Halve the squash and scoop out the seeds, chop the flesh into 1" dice.
3. Heat the oil in a large saucepan, fry the onions, carrot and squash foe 5 minutes.
4. Add the coconut, sweetcorn, bay leaf , half the vegetable stock and curry paste.
5. Cover and simmer gently for 15 minutes, until the squash is soft and the coconut appears to have dissolved into the stock.
6. Remove the bay leaf.
7. Pulp in a food processor, adding the rest of the stock gradually, until you reach the consistency that you require.
8. Add the cream cheese.
9. Season with salt and pepper to taste.
This soup is also delicious made with pumpkin, an ideal way to use the leftovers from that Jack O Lantern!
Source:
1. Roasted Butternut Squash Soup – Cookie and Kate
2. Birmingham Hospital Diet Plan
3. Curried Butternut Squash Soup | Minimalist Baker Recipes

Image Credit
www.bodyearth.net