Review of Debbie Meyer Green Bags I have used Debbie Meyer Green Bags for many years. I absolutely love them. The bags have saved me lots of money by extending the life of fruits and vegetables. The bags allow me to take advantage of bulk sales or reduced and bargain priced items. As with all […]
This entry was posted in
Cuisine and Food
by
Mary
. Bookmark the
permalink
.
Continue reading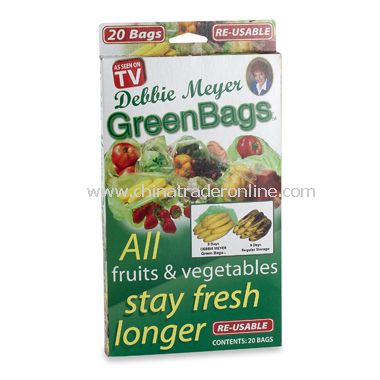 Review of Debbie Meyer Green Bags
I have used Debbie Meyer Green Bags for many years. I absolutely love them. The bags have saved me lots of money by extending the life of fruits and vegetables. The bags allow me to take advantage of bulk sales or reduced and bargain priced items.
As with all other products you gain the most benefit from this product if you use it as it is intended to be used. The information included with the bags is thorough and easy to understand. Do not close the bags with twist ties. All you need to do is fold over the top of the bag to close it. This will prevent punctures to the bags and allow you to reuse them more often. You should only store one type of fruit or vegetable in each bag. The bags are designed to be storage bags, not freezer bags. They work exceptionally well when used as intended.
Shopping the bargain bin for marked down vegetables and fruits is one way I reduce my grocery bill. Fruits or vegetables from this section must be stored in a way to prevent them from becoming too ripe to eat or from rotting soon after buying them. Immediately placing the items in green bags is the perfect solution for slowing down the ripening process.
I grow my own herbs and in the summer months I have a surplus of basil, chives, parsley, and various other herbs. I have found that I can keep them fresh much longer when I store them in the green bags. Our garden also produces vegetables faster than we can eat them at the height of growing season. The green bags prolong the life of squash, peppers, tomatoes, broccoli and all other garden items.
Most of us are trying to save money in any way we can right now. Investing in Debbie Meyer Green Bags is a smart way to help you save money on your food bill. I would suggest you buy several bags and that you buy different sizes. Celery, lettuce, and grapefruits last much longer when stored in these bags. Large bags work best for these. Lemons, tangerines, and various types of berries store well in the smaller bags. Packaged salad mixes tend to wilt and turn brown quickly when left in the bag they are purchased in. Putting the salad mix into green bags keeps it fresher longer.
As for the pros and cons of this product, I really can't find anything negative about the bags if they as used properly. In my opinion, they are a great way to extend the life of fruits and vegetables. Using the bags saves money because it allows me to purchase bargain items and bulk items without having to prematurely throw the items out due to their ripening too quickly.
Source:
1. Debbie Meyer GreenBoxes – Reviews
2. The Cookie Diet Review
3. Amazon.com | Debbie Meyer 32 Piece UltraLite GreenBoxes – Green

Image Credit
www.chinatraderonline.com